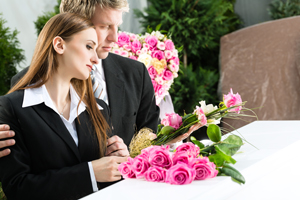 Different people are impacted by grief to differing extents, and it can be difficult to know how to help someone during their grieving process. But there are some certain things you can do that are generally helpful. Here's a look at four tips for assisting a grieving loved one.
Offer Assistance with Their Daily Routine
Grief can sometimes be debilitating to the point that the sufferer cannot keep up with basic life tasks. It's important to make clear to your grieving loved one that you're available to help with tasks such as cooking, cleaning, shopping, and other errands.
Make Them Feel Comfortable with Expressing Emotion in Front of You
While many people try to appear tough, grief can really break people down. And it's important that your loved one is comfortable with crying and otherwise expressing emotion in front of you. You should keep in mind that this requires vulnerability and it's crucial that you make your loved one feel as comfortable as possible.
Be a Focused Listener
When your loved one does want to share words about their emotional state, you'll want to listen as intently as you can. While you shouldn't prod them into talking if they don't want to, you will want to be prepared to listen carefully when the time comes when they do want to open up.
Learn More about Symptoms of Grief
While grieving, your loved one may be impacted by symptoms such as anxiety, anger, depression, and changes in their sleep cycle. If you notice any of these symptoms, you'll want to be particularly mindful about checking in on your loved one. And if the symptoms are especially bad and persistent, then it's worth being realistic about your loved one's need of professional help. By further researching the symptoms of grief, you can gain a better understanding of what your loved one is up against.
Funeral Directors in Snohomish County
Another way to help your loved one is by contacting a funeral director to plan the service. At Funeral Alternatives of Snohomish County, our highly experienced funeral directors provide funeral planning in Everett, Edmonds, Mukilteo, Lynwood, Mountlake Terrace, Bothell, Granite Falls, Lake Stevens, Darrington, Monroe, Sultan, Gold Bar, Stanwood, Marysville, Tulalip, and Arlington, WA. We also provide funeral services in Seattle, Bellevue, and King County. Feel free to give us a call at 1-888-381-6993 to ask any questions about our services.