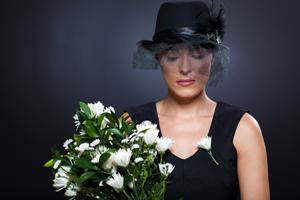 If you're planning to give a funeral speech, you might feel anxious about your ability to write a strong eulogy and then recite it in an emotionally-charged environment. Feeling such anxiety is normal and to be expected, but you can help to mitigate it by putting significant effort into your preparations. Here is some helpful advice for writing and reciting a funeral speech.
Brevity Is Key
It's generally best to keep eulogies to a maximum of five minutes, although if you're a particularly close family member or friend, you might go a little longer. It's important to be mindful of how much time has been allotted for funeral speeches and then make sure you're not taking up so much time that others won't get a chance to speak.
Practice the Speech
It'll be helpful to recite your speech a handful of times before the service. This way, you'll feel more comfortable with continuing forward if you get a little choked up during the service. Also, practicing the speech aloud will give you a sense of how it flows, which may help you with making edits.
Incorporate a Personal Story
When writing your speech, it's worth considering the personality of the deceased. If they were a big jokester, then it may be appropriate to include a funny, yet tasteful, story. A good story can really help to get across the departed's personality, and will likely be well-received by the audience, so long as it's in good taste.
Bring along a Written Copy
Reciting a eulogy can be an emotionally challenging experience. Having a hard copy of your speech will give you something to help regain your footing if you start to feel shaken up. Keep in mind that there's no shame in showing some emotion, and there's no reason to feel embarrassed if you start to cry during the speech. With a written copy, it'll be easier to carry forward despite your emotions.
Funeral Directors in Snohomish County
When you need assistance with any aspect of a funeral service, contact Funeral Alternatives of Snohomish County at 1-888-381-6993. Our reputable funeral directors provide funeral planning in Marysville, Arlington, Everett, Stanwood, Tulalip, Mukilteo, Lynwood, Bothell, Lake Stevens, Granite Falls, Sultan, and Monroe, WA. We also provide funeral services in Seattle, Bellevue, and King County. Feel free to give us a call today to ask any questions that you have about how to plan a memorable service.