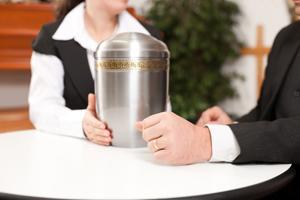 Increasingly, cremation is being chosen over traditional burial. Cremation is particularly common in Washington state, which, at about 78%, has one of the highest cremation rates in the country. There are several reasons why more people are choosing cremation. For one, it generally costs about 50% less than burial. Also, cremation allows the remains to be shared by family members who live far apart. And, if the family can't gather for a memorial service until a much later date, cremation is more compatible with such a situation. At Funeral Alternatives of Snohomish County, our local funeral home provides affordable cremation services in the greater Everett, WA area. Our experienced funeral directors can assist you with selecting the best urn for your desires and budget. Here's a look at some of the common types of urns.
Handmade Hardwood Urns
Handmade hardwood urns are a great fit for those who appreciate fine craftsmanship. They provide a look that is both rustic and refined.
Marble
Marble is desirable because it withstands the test of time, as evidenced by structures such as the Parthenon, the Taj Mahal, and the Statue of David. Marble urns provide an opulent look that is befitting of dignified people.
Veterans Urn
Military-themed urns are an excellent option for those who proudly served. These urns can be ordered to feature certain insignia and brief inscriptions.
Ceramic
Ceramic urns are a popular option for artistically minded people, and are available in an assortment of colors and shapes.
Wearable Keepsake Urns
These small urns function as wearable jewelry, allowing you to keep your loved one close wherever you go.
Biodegradable Urns
Eco-friendly biodegradable urns are a great choice for those who loved the natural world and lived a lifestyle that was environmentally-conscious. Biodegradable urns are also popular for sea burials.
Funeral Directors in Snohomish County
For affordable cremations in Everett, WA and the surrounding area, contact Funeral Alternatives of Snohomish County at 1-888-381-6993. Our reputable funeral directors provide funeral planning in Everett, Mukilteo, Lynwood, Edmonds, Bothell, Lake Stevens, Monroe, Sultan, Stanwood, Granite Falls, Arlington, Tulalip, and Marysville, WA. We also provide funeral services in Seattle, Bellevue, and King County. Feel free to give us a call today to ask us any questions about planning a memorable service.