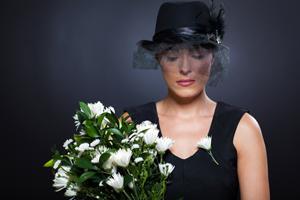 If it's been a long time since you've been to a funeral, you might feel like you need a refresher on proper etiquette. While the mood of funerals can vary on a case-by-case basis, there are some factors to generally keep in mind. Here's a look at some quick tips for good funeral manners.
Show Up Slightly Early and Select an Appropriate Seat
You definitely don't want to walk in late to the funeral while it is already proceeding. This would be considered disrespectful and distractive. At the same time, you don't want to arrive really early, unless you have a specific task to perform. It's smart to aim to show up a little early in case you get stuck in traffic. When people are being seated, it's best to choose a seat that reflects how close you were with the deceased. Seats in the front should be left available for the closest family members, and perhaps best friends. If you weren't as close to the deceased, then you should take a seat more toward the back.
Appropriate Attire
While black is the standard for funerals, you'll want to pay close attention to the invitation to see if there are any particular requests. Sometimes, family members choose to have services that are less formal or even upbeat, in which case black won't be the proper color to wear. But unless otherwise specified, it's best to default to formal, black attire, or at least dark tones.
Consider Leaving Infants/Toddlers with Babysitter
You'll want to take into account your child's closeness to the deceased as well as the likelihood that they will start crying/screaming during the service. If your child doesn't have an especially close tie to the deceased and does seem likely to make a lot of noise, then it's probably best to leave them in the care of a babysitter.
Shut Off Your Phone
It's best to power off your phone altogether, rather than just turn off the ringer. This will guarantee your phone doesn't become a distraction in any way. If your phone were to make any noise during a eulogy, it would be a major distraction.
Funeral Directors in Snohomish County
When you need assistance with planning a service, contact Funeral Alternatives of Snohomish County at 1-888-381-6993. Our reputable funeral directors provide funeral planning in Everett, Lynwood, Tulalip, Mukilteo, Bothell, Lake Stevens, Granite Falls, Darrington, Monroe, Sultan, Stanwood, Arlington, and Marysville, WA. We also provide funeral services in Seattle, Bellevue, and King County. Feel free to give us a call to ask any questions you have about how to plan a memorable service.