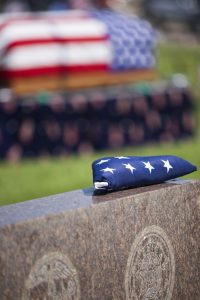 For military funerals, there are some important customs that are traditionally followed, and it's important to work with a funeral director who has experience with such services. At Funeral Alternatives, we take great pride in successfully planning military funerals in the Puget Sound region. Even if you have tight budgetary constraints, we'll work with you to plan a dignified memorial service for your beloved veteran. Here are five ways our local funeral home can help with planning a military funeral.
Taps
Taps is a traditional military musical piece that is customarily played on a bugle. The Army first officially recognized Taps in 1874, though it is known to have been played during the Civil War. Since, it has become an important part of funerals for veterans. At Funeral Alternatives, we can schedule an active military member to play Taps at the service.
Customary Flag-Folding Ceremony
Along with Taps, the flag-folding ceremony is also a time-honored tradition, which will be done by an active member of the military branch that is pertinent to your situation.
Interment in National Cemetery
Our local funeral directors can arrange interment in Tahoma National Cemetery, which is a highly respected final resting place for service members in the Puget Sound region. This cemetery rests below the regal Mount Rainier and offers accessibility for both North Sound and South Sound families.
Presidential Memorial Certificate
For approximately six decades, sitting presidents have carried on the custom of providing the family with an engraved certificate that is signed by the sitting president. All veterans who were honorably discharged are eligible for this certificate, but it must be requested.
Financial Assistance
At Funeral Alternatives, we work with local veterans' assistance programs to obtain funding for funeral and emergency expenses.
Funeral Directors in Snohomish County
When you need assistance with planning a military service, contact Funeral Alternatives of Snohomish County at 1-888-381-6993. Our reputable funeral directors provide funeral planning in Everett, Lynwood, Mukilteo, Mountlake Terrace, Edmonds, Bothell, Lake Stevens, Granite Falls, Darrington, Monroe, Sultan, Stanwood, Arlington, Tulalip, and Marysville, WA. We also provide funeral services in Seattle, Bellevue, and King County. Feel free to give us a call to ask any questions you have about how to plan a memorable service.