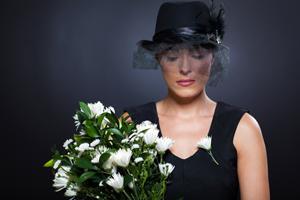 You might not regard yourself as a writer, but by following a standard formula, you can craft an obituary that strongly honors your family member or friend who has passed. Because people will look back on the obituary for years down the road, it's worth putting in a concerted effort. At the same time, you don't want to overburden yourself with pressure. Here are five basic steps for writing an obituary.
Step 1: Conduct Thorough Research
It's very important to correctly state important dates, such as birthdays, weddings, and graduations. And if your loved one held a title that should be listed (such as from military or education), then you'll want to make sure you list that title correctly.
Step 2: Start with Death Announcement
Commonly, the obituary opens with a formal death announcement, including the date and location. There's no pressure to include the cause of death, but that is something you can include if you're comfortable doing so.
Step 3: Anecdotes/Brief Story
To illustrate your loved one's character, you can include a short story or anecdote. This could be something comical, courageous, or otherwise impressive. The anecdote should be a representation of how your loved one lived their life.
Step 4: Include All Relevant Family
Surviving family members are generally listed toward the end of the obituary. Close family members who previously passed away are also commonly listed. Typically, the first family member listed is the spouse, followed by children. Siblings and grandchildren are also often included. If the family has grown very large, then you could just write something such as "numerous grandchildren and great-grandchildren." Beloved pets are sometimes listed as well.
Step 5: Funeral Information
Commonly, funeral info is listed at the end of the obituary. If it's a public service, you'll want to make sure to accurately list the date, time, and location. As you draw the obituary to a close, you may mention a charity to which people can make commemorative donations.
Funeral Directors in Marysville, WA
When you need assistance with planning a funeral service, contact Funeral Alternatives of Snohomish County at 1-888-381-6993. Our highly experienced funeral directors provide funeral planning in Everett, Mukilteo, Mountlake Terrace, Lynwood, Marysville, Tulalip, Granite Falls, Lake Stevens, Monroe, Sultan, Stanwood, and Arlington, WA. We also provide funeral services in Seattle, Bellevue, and King County. Feel free to give us a call today to ask any questions you have about how to plan a memorable service.